New Zealand's Longboss gets lost in Istanbul, and we reap the benefits.
In Turkey, following your nose seems to be a record digger's prerequisite, as navigation is not easy. Signs in Cyrillic, old men nodding yes to turn left when they are really saying "wrong way son" and the labyrinthine side streets that record stores seem to be invariably be located all combine to make for an interesting experience and one not to undertake if you're in a hurry.
Following your nose to find Istanbul's Kurgu Books & Records means first locating the collection of pungent fish restaurants that street. The next step is to look for books, and lots of them. Finding Kurgu means traveling through Istanbul´s giant  book store arcade. Here, the volume of reading material  accumulated by owners literally spills out the doors of every stall. Obsessive compulsive collector types beware: you will get stuck here for a long time.
In amongst all this is the small but perfectly formed store of Yuksel Berksoy, Istanbul's only serious stop for Anatolian musical treats.  Run by Yuksel and her two lovely daughters Bengi and Ozgu, Kurgu is an all woman musical operation. Combined with a hi-fi store (manned by the token bloke, Yuksel's son) the Berksoy ladies have Istanbul's second-hand music scene locked down.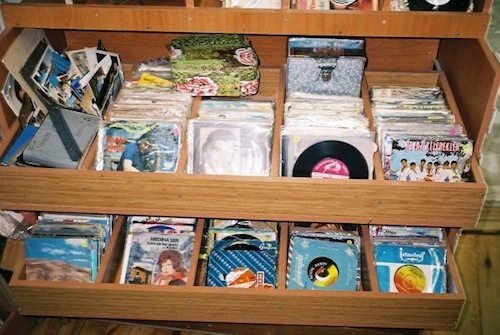 I simply wanted to find the bin marked "Psychedelic Turkish rock 1976"  but it wasn´t until I got to Turkey that I realised the distinction between Anatolia and Antalya and understood there was much more than just the few names I'd heard of. Anatolia is basically the Turkish heartland, while the latter is the Mediterranean city. The music similarly had been a little misunderstood, but my subsequent travels and listening  revealed that 70s Turkish music spanned an incredibly diverse range, where traditional standards combine with Western covers, the pentatonic scales overlap with American funk and strange (to my ears) otherworldly Eastern instruments combine with fuzz boxes….awesome.
There was a nice selection of LPs however with Okay Temiz and Baris Manco's prime LPs stocked at international prices it was 7"s in the tin box marked "Anatolian Rock" which grabbed me.  Over an afternoon of complimentary tea Yuksel and I worked our way through the music until I had around 15 pieces to  take back across the Bosphorus.
Worthy mentions should go to Defunkt music and others selling new and secondhand European releases, but if you are going to Constantinople for local flavours, head towards the books…
Kurgu Books & Records, Mesrutiyet Caddesi 18/38 Aslihan Pasaji, Beyoglu, Istanbul, Turkey